Possum Problems? Get Easy Solutions From CBD Possum Removal
Possums are becoming a growing problem in many parts of Australia. They are one of the most intelligent animals in the world, and they can cause plenty of problems for homeowners. Possums can get into your roof, chew on wires, and generally make a nuisance of themselves. These marsupials can cause significant damage to property, crops, and native ecosystems. They also carry diseases that can be spread to humans and other animals. As such, it is important to understand the issues related to possums and what can be done to mitigate their impact. You may deal with lots of possum problems if they invade your place. Professionals know how they can be managed, and what steps people should take if they encounter possums.
To solve this problem, many people have turned to installing possum boxes in their homes to ensure that possums don't become a problem. Possum nesting boxes are an effective way to keep possums out without harming them. They provide a humane solution to the problem and can be installed quickly and easily by anyone. To install them, you can call our experts and we are here to provide the best solutions for resolving all possum problems and issues. We at CBD Possum Removal, provide possum removal and relocation services by using the latest techniques and eco-friendly methods.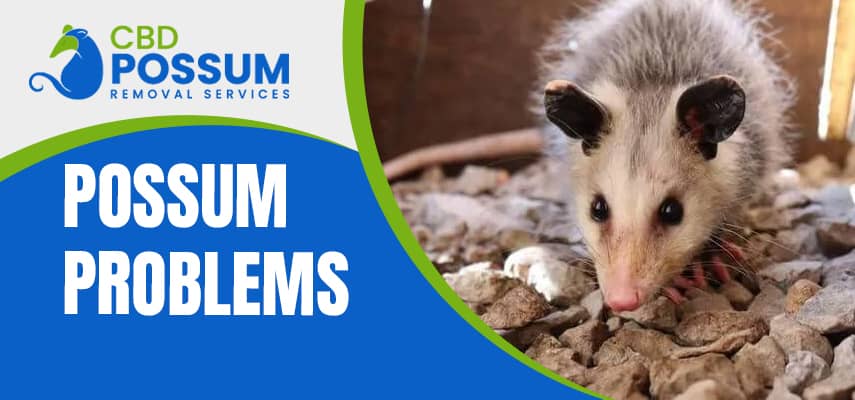 How We Can Help to Remove Possums?
Possums are an intelligent and resourceful species, but they can cause some serious problems if they take up residence on your property. Possums can damage buildings, eat crops, and create messes that need to be cleaned up. Fortunately, we use several ways to remove possums from your property without harming them.
Installing a possum box is one of the most effective methods of dealing with the problem. Possum boxes are humane traps that will ensure the possum is safely removed and relocated away from your property. They are also cost-effective and easy to install, making them a great solution for resolving any Possum Problems you may have.
For our possum removal services, we provide a 12-month warranty to guarantee the issue has been resolved. To provide long-lasting possum removal to our customers, strong materials, often wire mesh or sheet metal, are used in our process. After trapping all possums, we seal the holes and all possible entry points. This will ensure that there will be no possums anymore or Possum Problems in your home.
About Us
Our Possum Removal Company (CBD Possum Removal) is the leading provider of possum removal services in Australia. We have been providing safe and humane possum removal services for over 25 years. Our team of experienced professionals use the latest technology and techniques to ensure that your possum problem is solved quickly and effectively. We are dedicated to providing our customers with the best possible service, so you can rest assured that your home or business will be free from possums in no time. We can send numerous qualified individuals to inspect your building till we identify all the access holes if a particularly cunning possum is aware of hidden entrances. We take pride in our work and strive to provide a service that is second to none.
Looking for a free quote?
Look no further! Our possum removal company also offers free quotes to help you make an informed decision. We understand the importance of having a professional and experienced team to take care of your possum problem, so we make sure that our quotes are tailored to your individual needs. With our free quote service, you can rest assured that we will provide the best possible solution for your possum problem. So don't wait any longer and get in touch with us today to arrange your free quote if you are dealing with Possum Problems. We can quickly respond to any questions you may have. For a status update, contact the office via phone or email.