CBD Possum Removal, The Best Ever Cost-Friendly Possum Removal Company
Possums are a common pest in many parts of Australia. Possums have become a major issue for homeowners in recent years, and they can cause a range of health problems. Not only do possums carry diseases, but they also damage gardens and property. They can also spread fleas and ticks, which can cause disease in humans and pets. Possums are an increasing problem for homeowners, and it is important to take steps to prevent them from entering your property.
Possums can be difficult to remove. That's why our company provides professional possum removal services that are designed to be safe, effective, and humane. We use specialized techniques and equipment to ensure that the possums are removed quickly and safely with minimal disruption to your property. We also provide advice on how to prevent future possum infestations so you can enjoy your outdoor space without worry.
Our possum removal can be costly, but the cost is often worth it in order to protect your home and family from potential damage and health risks. Well, possum removal with professional services, DIY methods, and prevention tactics is really worth it for you. Still, we try to keep our Possum Removal Cost cheaper than other companies.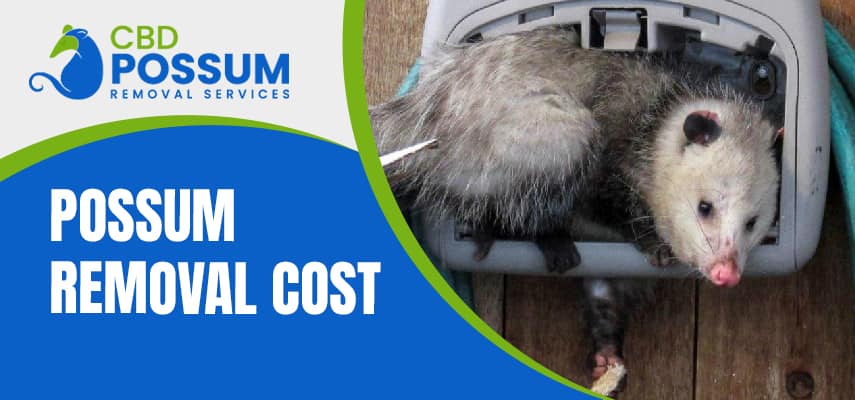 Possum Removal Costs
Possum removal can be a tricky and expensive process, but it is also necessary to protect your home from the dangers of possums. Knowing how much possum removal costs can help you make an informed decision about whether or not it is the right choice for your situation. We offer reasonable prices for all property that is ranging from $380 +GST with one year warranty.
For Single-Story Buildings*
Possum Removal – Single Storey Building:
$280 + GST (12-Month Warranty)
$450 + GST (24-Month Warranty)
For Two Story Buildings*
Possum Removal – Two Storey Building:
$320 + GST (12-Month Warranty)
$500 + GST (24-Month Warranty)
Various factors contribute to the cost of possum removal and you can save money on these services if you know them. According to the following factors, the projected price of possum removal may change:
Size of the property
Possum types
Considering cost according to service type
Types of property
Number of possums
To confirm the exact Possum Removal Cost, simply contact our company's experts and tell them your requirements and they will give you a free estimate as well as guide you. You can get free advice on how to book our Professional Possum Exterminators and how much Possum Removal Cost will be charged.
Why Consult With A Professional for Possum Removal?
Possums are a common nuisance and can cause damage to property, spread disease, and even attack humans if they feel threatened. If you have possums on your property, it's important to consult with a professional possum removal specialist to help you get rid of them safely and effectively.
Call us, and our possum removal specialists will be able to identify the best methods for removing the possums from your property and ensure that they don't return. They can also provide advice on how to prevent future infestations and answer any questions you may have about possums in general. Hiring our Possum Controllers is the surest way to protect your home from these pesky creatures. And, professional service with affordable Possum Removal Costs is the reason for your surety.
Where We Serve People In Australia
Possums are a common nuisance in many cities, and they can cause a lot of damage to property if left unchecked. We offer possum removal services to help people get rid of these pesky creatures in many areas and nearby places. Our experienced team is well-versed in the most effective methods for possum removal, and we guarantee that our services will be fast, reliable, and cost-effective. With our help, you can rest assured that your property will be free from the nuisance caused by possums. We serve all eastern, western, southern and northern suburbs of the cities like Hobart, Melbourne, Sydney, Brisbane, Canberra, Adelaide & Perth.